It is taking all my willpower today to not post yet again about boots. I am obsessing and agonizing over some serious boot-purchasing decisions, but I promised this blog would not become Boot Central, and I'm sticking to it. If I'm still debating tomorrow you may see another boot, but for today, welcome to Obsession #2 for me: hoodies. You're thinking, how can you be obsessed with hoodies? Isn't it just a sweatshirt with a hood? What's the big deal? Well, no matter how, ahem,
mature
I get, I still think it's the perfect layering piece under jackets and blazers of all kinds. And then every once in a while you stumble across one that's really really special. Meet
Bruce
.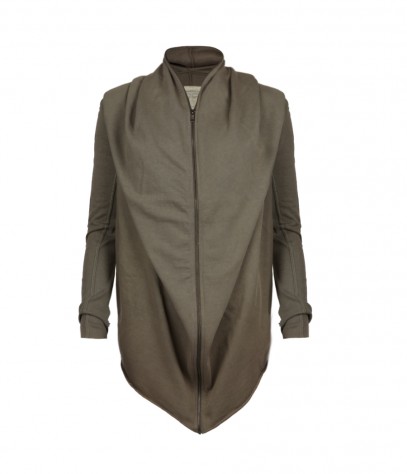 Bruce from the back is a normal hoody, but in the front he is made up of cascading waves of knit cotton and a zipper that, if you were a turtle, would come in handy indeed. You can wear the extra fabric over your shoulders as a shawl collar, or over your head as a hood, but it's not a normal hood, it drapes more like a nomad's scarf. I don't think words can describe it, and I hate the way
AllSaints
photographs their pieces without models, so in order for you to get a better idea, after the jump you'll find a few
lookbook.nu
photos of Bruce in action...
Thanks
Elisabeth
for showing off the joys of Bruce!